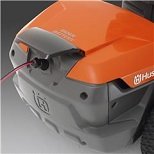 Low noise
Battery-power means silent operation and improved user comfort as well as less noise impact on neighbours.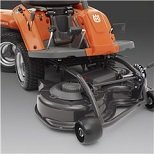 Low maintenance
The Rider Battery requires less maintenance compared to a petrol machine. No fuel, no oil and no belt service.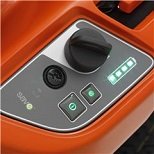 savE™
Choose savE™ for maximum runtime.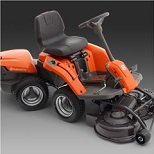 Unique articulated steering
The unique articulated steering system allows the rear pair of wheels to swing in underneath the machine. The result is superior manoeuvrability with a minimum turning radius at full lock.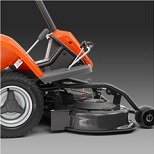 Front-mounted cutting deck
Front-mounted cutting deck for excellent accessability into corners and under bushes, park benches etc.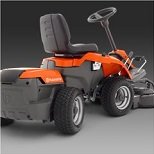 Compact design
The compact design makes it easy to manoeuvre the mower in smaller spaces. Also requires less space for storage.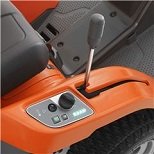 Easy-access controls
Controls are easy accessible and designed for optimum user comfort.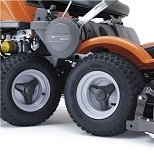 Four large wheels
16-inch wheels both front and back provide optimal riding comfort, great accessibility and less risk of damaging delicate surfaces.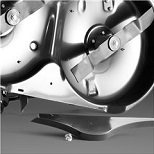 BioClip® cutting deck
Efficient BioClip® cutting deck, also offering rear disharge cutting mode.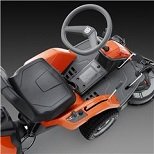 Comfortable driver's position
With a Rider you get safety, stability and traction on both flat grounds and hillsides. The Rider's low gravity centre contributes to extra good traction as well as a comfortable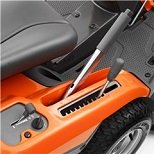 Automatic blade engagement
The blades are engaged automatically, when you lower the cutting deck.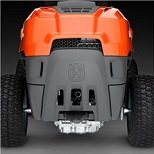 Rear-wheel drive
The efficient rear-wheel drive system ensures excellent traction when mowing on slopes.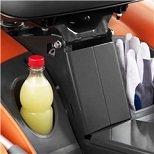 Bottle holder
Convenient bottle holder for refreshments.