Pedal-operated hydrostatic transmission
Speed and direction are managed by pedals, which lets you keep both hands on the steering wheel, for optimum driving control.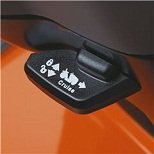 Cruise control
Allows the tractor to maintain consistent speed, even in rough terrain.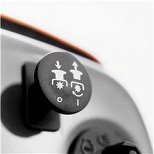 Electric engagement of cutting blade/s
Easy engagement of cutting blade/s; simply pull the switch on the control panel.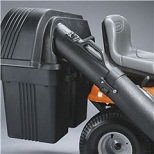 TrioClip
Can be used as TrioClip machine, i.e. with the three cutting systems, collector, BioClip® and rear ejection.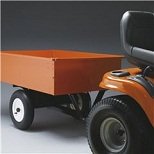 Accessories are available
Our versatile tractors can be fitted with accessories, for example, tilt trailer.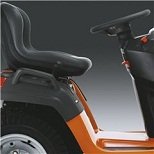 Step-through
"Step-through" ensures comfortable and easy mounting and dismounting.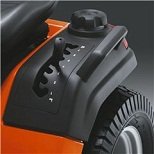 Fender-mounted cutting height adjustment
Convenient fender mounted deck lever is spring assisted for easy operation.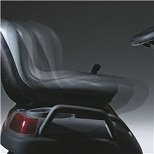 Adjustable sliding seat
Adjustable while seated; seat moves forwards and backwards.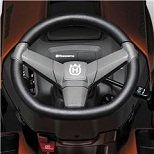 Ergonomic steering wheel
Comfortable steering wheel, angled for optimal driver's position.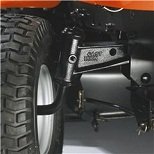 Pivoted front axle
Pivoted front axle provides driving comfort and superior access even in hilly terrain.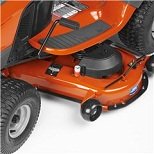 Reinforced cutting deck
The stamped cutting deck is reinforced with heavy flat-stock steel for added strength and durability on the leading edge and trim side. (48
Powerful air stream
The ventilated Air Induction cutting deck gives an extra powerful air stream for outstanding cutting and collecting of grass as well as leaves.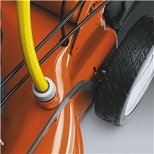 Water hose connection
Facilitates cleaning of the cutting deck. Attach the hose, turn on the water and start the engine and you will get a cleaner deck. For optimum results, clean the mower directly after use.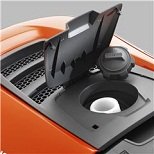 Easy-access fuel cap
Refueling doesn't require engine hood to be opened.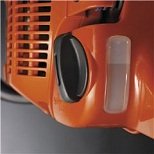 Visible fuel level
Transparent fuel indicator makes it easy to check fuel level.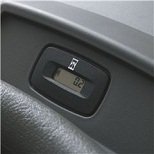 Hour meter with service minder
Indicates when it's time to service your mower.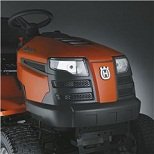 Headlights
Makes the tractor more visible and allows you to work when it's dark.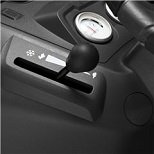 Chokeless start
Easy to get operating with automatic choke. Just turn the key and go.
Fast hydrostatic transmission
Features a hi-speed, hydrostatic transmission for superior transport speeds and smooth, variable forward and reverse speeds with the aid of pedals.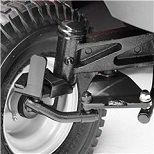 Heavy cast front
Heavy cast front axle provides superior balance and stability, even with a collector.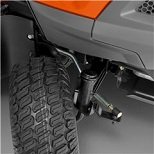 Dual draglinks
Gives tighter turning radius and improved manoeuvrability.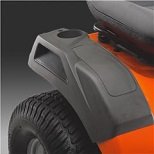 Cup holder
Cup holder for refreshments while mowing.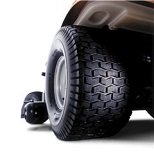 Wide tyres
Wide tyres put less pressure on the ground and facilitate superior access.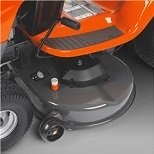 Powder-coated Deck
Powder-coated deck for improved durability and corrosion resistance.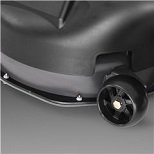 Anti-scalp wheels
The cutting deck is equipped with anti-scalp wheels, which reduces the risk of scalping when cutting uneven lawns.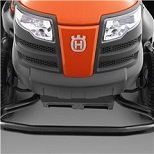 Bumper
Protects the front of the tractor effectively.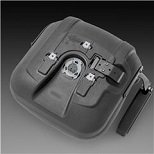 Safety switch under seat
The tractor is equipped with a safety switch under the seat. If the driver leaves the seat the engine and cutting deck are automatically switched off.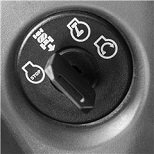 Reverse Operating System (ROS)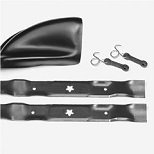 BioClip® kit/cover accessory
Makes it possible to convert your mower to BioClip®, which means that the grass is cut into small pieces that quickly decompose and return to the lawn as fertiliser, also making the lawn more drought resistant.