'Where's Bunny?' Facebook Competition Terms and Conditions
Posted 24 Mar 2015 , by Cindy Shepherd category
Competitions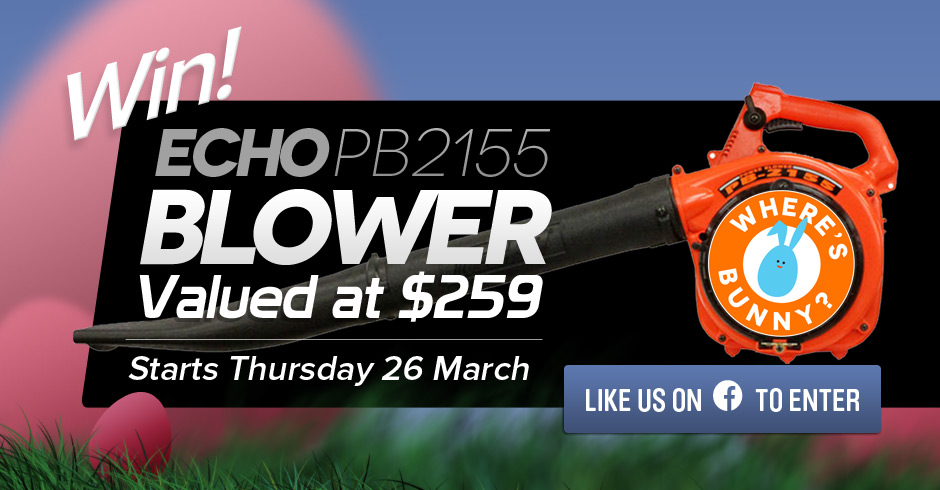 Information on how to enter forms part of these Conditions. By entering this Competition, entrants are deemed to accept these Conditions.
1) Conditions of entry
Entry into this Competition is open to Victorian residents who are current fans of the Hastings Mowers Facebook page only. To become a Hastings Mowers Facebook fan, you must have a Facebook account and profile. To register a Facebook account you must be at least 13 years of age. For Facebook's full terms visit http://www.facebook.com/legal/terms. Employees of Hastings Mowers are not eligible to enter this Competition.
2) Competition start and finish dates
Entry into this Competition commences on Thursday 26 March 2015 and closes at 9:00pm (AEST) on Monday 30 March 2015 ('Entry Period').
3) Prizes and prize conditions
There will be one winner. The winner will receive an Echo PB2155 Blower valued at AUD$259.00. The prize must be taken as offered, is not transferable and cannot be exchanged for cash. The prize will be couriered to the winner's Victorian address.
The Promoter accepts no responsibility for any variation in the value of the prize. The prize value is correct at time of printing.
4) How to enter
Entrants must visit the Hastings Mowers Facebook page and comment on one of the five competition posts. The comment must include the correct name of the Victorian landmark where the Easter bunny is pictured. Entrants can enter multiple times. All entries must be received by the Promoter by 9pm on Monday 30 March 2015. All correct entries will be entered into the random draw to win the prize. No responsibility is accepted for entries that are late, lost, misdirected or not received by the Promoter during the Entry Period.
5) Selection of prize winners
The Competition draw will take place on Wednesday 1 April 2015 at 11:00am (AEST) at 2013 Frankston-Flinders Road, Hastings Victoria 3915. The first valid entry drawn will be deemed the winner. The Promoter's decision regarding the prize winner is final, and no correspondence will be entered into regarding the outcome. If the prize winner is under the age of 18 years, the prize will be awarded to that person's parent or guardian on behalf of that winner.
6) Notification of prize winners and distribution of prizes
The prize winner will be notified via the Hastings Mowers Facebook page on Wednesday 1 April 2015 at 1pm. The winner then needs to get in contact with Hastings Mowers on (03) 5979 1382 to advise their Victorian address for the prize to be delivered to. If a prize winner selected by the Promoter is ineligible to receive the prize, forfeits the prize, or cannot be contacted by the Promoter within 2 weeks, the Promoter may select a new winner at its discretion.
7) Ineligible entries
The Promoter reserves the right to disqualify from the Competition any entrant who the Promoter has reason to believe has breached these Conditions, engaged in any unlawful or improper misconduct or is in breach of the Facebook Statement of Rights and Responsibilities (available at www.facebook.com/legal/terms).
8) Promotional Activities and Privacy
At the request of the Promoter, entrants and (if entrants are aged under 18 years), their guardians agree (without charge) to participate in any promotional activities planned by the Promoter and consent to their name and photo being used in the Promoter's marketing materials. By participating in this Competition, entrants consent to the use of their personal information as set out in this clause. The Promoter may collect and use personal information submitted with each entry for the purpose of running the Competition, contacting winners, sending prizes and marketing materials. Personal information will not be provided to any third parties. If entrants do not provide the required personal information they will not be eligible to participate in the Competition.
9) Limitation of Liability
The Promoter shall not be liable for any loss or damage whatsoever which is suffered or sustained (including but not limited to indirect or consequential loss or for any personal injury or property damage) in connection with this Competition, except for any liability which cannot be excluded by law.
10) Promoter
The Promoter is Hastings Mowers - CPM Power Equipment Pty Ltd T/As Lawn & Garden Equipment Superstore Pty Ltd (ABN 37 783 253 900) of 2013 Frankston-Flinders Road, Hastings Victoria 3915. Please direct any questions about this Competition to the Promoter and not Facebook. Entrants are advised that this Competition is in no way sponsored, endorsed or administered by, or associated with, Facebook.